Doggy Daycare
at the Willows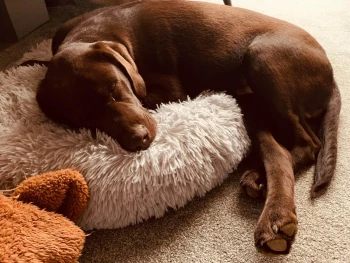 Doggy Daycare at The Willows is a five-star licensed day care centre for your canine companion. Do you worry about leaving your dog on their own? Would you like your fur baby to socialise more with other four-legged friends? They can enjoy off-lead exercise and socialisation within our secure outdoor paddocks, which includes a sand school arena.
Your pooch will have access to a fully air conditioned or heated indoor playroom and rest rooms. So, they can play happily or have a comfy nap during the day. In the summer months, we have an outside sheltered area and paddling pools, so your dog can enjoy a swim! Our playroom is designed for small to medium sized social dogs. Set up like a nursery with beds and toys, your dog won't want to leave at the end of the day.
Our doggy day care centre is in a picturesque setting right next to Burbage Common, near Elmesthorpe. We're easily accessible from Hinckley and all of the surrounding villages.
We love and care for your dogs as if they were our own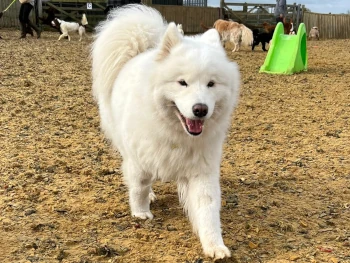 At Doggy Daycare at The Willows, we understand that your dogs are part of your family. So, we love and care for them as if they were our own. We love what we do, and for us it's our dream job. Our staff are trained to a high standard, and we regularly arrange training sessions with a dog trainer. Our team are continually learning about dogs, which means we can handle them in a safe way.
Your dogs will love their play day sessions with us. With our doggy day care, they will come home happy and relaxed after a day of socialisation and fun.

Doggy Daycare at the Willows
What Our Clients Think

"Reggie wasn't very confident when he first started day
care as he wasn't used to being around many other dogs, however now he wags his tail as soon as he arrives and pulls to go in! He loves it! He's exhausted when he comes home and looks like he has the best time in all the photos 🙂 we love that he gets to play with other big dogs who are just as playful as him! He's also had his first bath today and smells amazing! His coat is lovely and soft too. Would highly recommend The Willows to anyone 🐕🤍"
Rebekah Wood
⭐⭐⭐⭐⭐
"Dougie was lucky enough to win 3 days sessions in the willows opening competition. He has loved his time there & whilst there even learnt to leave his ball!! Always comes home tiered & I know he's being very well cared for. Highly recommend 'The Willows' 🐶"
Melissa Holt
⭐⭐⭐⭐⭐
"Thank you to all at The Willows for the amazing care, love and fun Arnie has each day.
He mixes with different dogs each day he goes and comes home super tired. It has really helped his socialisation and the ability to run off lead.
At the end of each day the photos are fantastic and brilliant to see how much fun he has had running all day with his friends. The staff are so kind and give you regular updates. They treat the dogs like their own.
I couldn't recommend them more highly!"
Hannah Sophie
⭐⭐⭐⭐⭐
"My pup has been going once a week since September and he absolutely loves it. Comes home tired out after a day of play with his friends. The staff are super friendly and very obviously animal lovers. Definitely a five star from us."
Louise Starns
⭐⭐⭐⭐⭐
"I can not recommend Doggy Daycare at the Willows enough… Hank was having trouble socialising with other dogs as he was a big bouncy pup and would often get attacked for being over excited. The staff were brilliant, listened to my concerns and managed to mix Hank in with other similar age dogs that matched his personality and energy. He knows exactly where he's going in the car ride there and just loves his time at the Willows. I have one pooped pooch when he comes home too xx"
Rachael Goody
⭐⭐⭐⭐⭐