Doggy Day Care Services
Doggy Daycare at the Willows

The Benefits of Doggy Day Care
Doggy day care has many benefits, including providing your pooch with all the mental and physical stimulation they need. It's great for socialisation, giving them the opportunity to run and play off lead with other dogs of a similar size and nature. By the end of the day, your fur baby will be happy and sleepy. And a tired dog is a happy dog!
Worried about the amount of time your dog is left on its own during the day? Doggy day care puts your mind at ease knowing that your dog is enjoying their day with us. All dogs are fully supervised, and we have a five-star licence with Blaby Council. Your dog will receive the highest level of care with us; we have one member of staff to every eight dogs. Every dog is treated as if they're our own.
Concerned about your dog feeling anxious? Doggy day care helps to build your dog's confidence and independence when they're away from you. If you've been mainly working from home, your dogs will have got used to you being around. By sending them to day care, they will have time away from you, making them less dependent.
Many of our customers notice a difference in their dog after just a few sessions with us. For example, the dog is more relaxed when meeting other dogs on and off lead. Your dog will become more sociable, confident and generally more relaxed at home. And you'll have peace of mind knowing they're getting the physical and mental stimulation they need.

Day Care Groups for Dogs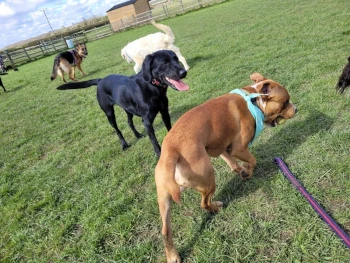 We don't have all of the dogs out together in one group. Instead, we like to mix the dogs in terms of size and temperament. You can be confident that your dog will be playing with dogs of a similar size and nature. This ensures your dog has an enjoyable fun filled day.
A lot of puppies and nervous dogs attend our day care. It's a great way to help them build their confidence. We like to start the dogs in small groups and then build the groups as the weeks go by. We love seeing the dogs increase their confidence and grow in character.
Did you know it's important to socialise your dog from a young age? Doggy day care is a great way to do this. It's very difficult to find places to socialise your dog off lead in a safe and secure environment, which is what we offer!

Our Exercise and Indoor Areas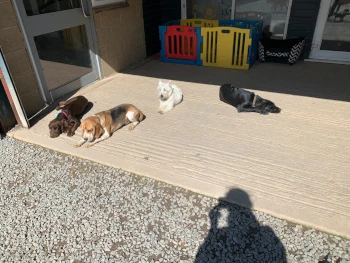 Our paddocks and sand school are secure areas used in the winter months to prevent your dogs from getting too muddy in the fields. The dogs love the sand school, they think they're at the beach! In the summer months, we have a sheltered outside area. We also use paddling pools, and we love watching the dogs play in the water!
Imagine a nursery for dogs? Our fully air conditioned, heated barn has a large playroom for small to medium sized social dogs. We also have a separate rest area for dogs to have some time out and rest during the day. The indoor playroom has comfy beds and fun toys, which they absolutely love!
Puppies and younger dogs in our care always have time out during the day. We know how important it is for them to rest whilst they are still growing. You can come home and relax after a long working day, knowing your dog has been well looked after and cared for. Your pooches will also be relaxed and tired after a great day of socialising and playing.

Viewings and Trial Days for our Doggy Day Care Services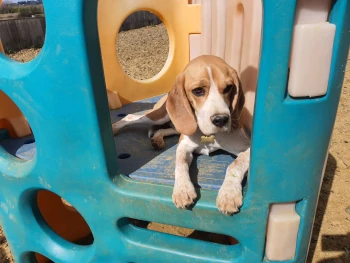 Would you like to bring your dog for a visit? We'd love for you to come and have a look around! We organise group viewings, so we can see how your dog interacts with others.
Your dog will need to be fully vaccinated including the kennel cough vaccine before coming into day care. We recommend that your dog doesn't start day care for 14 days after having the kennel cough vaccine due to it being a live vaccination.
If the initial viewing goes well, we'll need you to complete our booking form. We need to have all of the important information about your dog.
Then we'll book your dog in for a trial day with us. Your dog will be made to feel very welcome. Mixing with suitable dogs and watching closely, we'll help build their confidence on their first day!
We will give you feedback at the end of their first play day. We post our photos on Facebook, so you can see for yourself that your fur baby has had a great day with us!